From traditional to contemporary, casual to formal. Express your individual style with the timeless beauty of Faux Wood Shutters.
Standard and painted finishes are available. You can choose between 64mm and 89mm louvres.
Our shutters are also energy efficient.
Key features
5 year guarantee
flame retardant
water resistant
Colours & Materials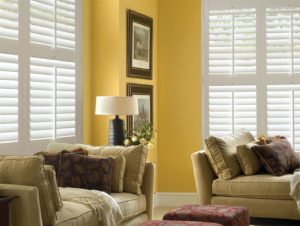 Colour scheme
Choose from one of the elegant standard finishes or maybe one of the stunning 16 painted colour finishes. No matter what colour scheme you have, you'll find a colour to suit your interior.
Unique Solutions
Room Darkening
Sometimes, the absence of light is important to the overall design or function of a room. Bedrooms used during the day, or specialised media rooms require the ability to completely eliminate all outside light.