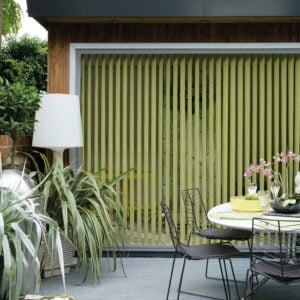 The timeless design allows you to control light and privacy by adjusting the slats. Perfect for working from home or reducing glare on the TV during those daytime binges.
A practical and affordable option for patios, conservatories, and living room bay windows. Vertical blinds are a better option for wide windows and sliding doors. But wide vertical slats might fill your window sills. If you have a tall and narrow window, wooden and venetian blinds might be more suited and give you more space.
One thing to note is when vertical blinds are pulled back they will be stacked at the side of your window or door. Our advisors can offer you advice on ways to minimise this at your appointment.
Our vertical blinds louvres come in 89mm width as standard. We have a limited selection of 127mm width vertical blinds if needed as a replacement louvre.
Think vertical blinds are outdated? Think again!
They come in a wide range of colours and patterns (that you can see below). White, neutral, and natural colours that are great for coordinating with minimalistic decor. Through to black and darker coloured blinds. To help control the light coming in and darken a room during the day, a darker colour is recommended.
Not to mention a whole range of features from blackout to ASC. ASC thermal fabric is a special energy saving fabric that reflects heat back into the room. Helping to reduce energy bills by keeping the room cool in the summer and keeping the cold out in the winter.
Choose from stabilising chained weights. Or for a cleaner, contemporary look, opt for chainless bottom weights. Bonus of being pet friendly. And can come with a wand instead of cords and chains to operate.